There are a number of biotic reef types, including reefs, coral reefs, artificial reefs, but the most massive and widely distributed are tropical coral reefs. Although corals are major contributors to the framework and bulk material comprising a coral reef, the organisms most responsible for reef growth against the constant assault from ocean waves are calcareous algae, especially, although not entirely, species of coralline algae.

A fringing reef is a reef that is attached to an island. A barrier reef forms a calcareous barrier around an island resulting in a lagoon between the shore and the reef. An atoll is a ring reef with no land present. The reef front (ocean side) is a high energy locale whereas the internal lagoon will be at a lower energy with fine grained sediments. The Fish Habitats are formed in various shapes which offers the best environment to live, breed and find protection.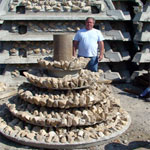 An Artificial Reef is a Man-made underwater structure of non-toxic materials built for promoting marine life; which provide shelter to various kind of marine life and become good habitat for marine life.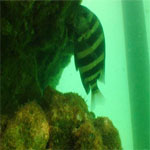 Coral reefs are the most diverse and beautiful of all marine habitats. Large wave resistant structures have accumulated from the slow growth of corals. The development of these structures is aided by algae that are symbiotic with reef-building corals, known as zooxanthellae.