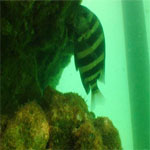 Coral reefs are the most diverse and beautiful of all marine habitats. Large wave resistant structures have accumulated from the slow growth of corals. The development of these structures is aided by algae that are symbiotic with reef-building corals, known as zooxanthellae.

Coral reefs are underwater structures made from calcium carbonate secreted by corals. Corals are colonies of tiny living animals found in marine waters that contain few nutrients. Most coral reefs are built from stony corals, which in turn consist of polyps that cluster in groups. They are most commonly found at shallow depths in tropical waters, but deep water and cold water corals also exist on smaller scales in other areas. Of all ocean habitats, reefs seem to have the greatest development of complex symbiotic associations.

Fish Habitat

The Location of the reefs decided after close consultation with Local Volunteers, Fishermen and Fishing Organizations to obtain maximum benefits from deployed Reefs.

The Coral Reefs deployed in good location can provide good fishing opportunities for Fishermen.

Choice of sites, Materials and Design of Reef should be results of this extensive consultation and we will be pleased to deliver a range of options to suit every kind of recreational Fishers.

Image shown in this page describes : How much the Fishes like these Coral Reefs and How they Grow in these Habitats.
Enquiry Form
Home | Company Profile | Our Products | Inquiry Now | Contact Us | Site Map
Copyright 2011 - 2012. All Rights Reserved by Nidhi Corporation
Site Design By WebKeyIndia.com "Web Designing Compnay India"
Business Member of TradeKeyIndia.com"B2B Portal India"