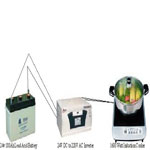 Each Trawler Fishing Boat Equipped with 2-Batteries; 12v each; which recharged through Alternator of Boat Engine.

Attach a 2-KvA, 24v only DC to AC Inverter with existing Batteries which provide 220v A.C. Plug in a 1800 Watt Induction Cooker with Inverter and Feel a wonderful, fume less, Hygienic, Risk free and Zero Polluting Cooking Experience on Fishing Trawler.

We have Test Report from EQDC to prove quality of provided equipments.
Enquiry Form
Home | Company Profile | Our Products | Inquiry Now | Contact Us | Site Map
Copyright 2011 - 2012. All Rights Reserved by Nidhi Corporation
Site Design By WebKeyIndia.com "Web Designing Compnay India"
Business Member of TradeKeyIndia.com"B2B Portal India"