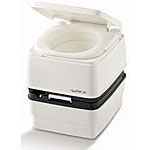 Because the toilet is compact, lightweight and easy to use, the Portable Toilet (Porta Potti) is often used in Caravans, Motor Homes, Boats, Folding Trailers and even Summer Houses. But these portable toilets also come in handy during House Renovations or just as a Second Toilet. The Portable Toilet (Porta Potti) is simple to transport and really can be placed anywhere.

Advantages of the Porta Potti
Lightweight, high-quality plastic
Durable and practical in use
Integrated emptying spout
Integrated emptying spout
Handy vent button for splash-free emptying
Choice of flushing system
Level indicator, to show when it needs emptying
One-year warranty
Extensive range of Toilet Care products and spare parts
Good quality achieved through years of Experience in portable
sanitation
How The Porta Potti Works
The Portable Toilet (Porta Potti) consists of two sections. The upper section is a combined flush-water tank and toilet bowl with detachable seat and cover. The lower section is the waste-holding tank.
The two parts are easy to attach and detach using a handle at the rear of the toilet.
Adding the correct dosage of The Toilet Care products to the waste-holding tank using the emptying spout is simple
Water and flush-water fluid (Aqua Rinse) can be poured directly into the top of the flush-water tank.
The lightweight waste-holding tank is easy to transport and features a handy container to store the two free samples of our toilet care products.
All models feature a unique integrated rotating emptying spout, making emptying as simple as can be. There is no need to dismantle or clean separate parts. The waste-holding tank also has a vent button, which you press while emptying to prevent unpleasant splashing. 6 The Porta Pottis are equipped with a level indicator**, so you are warned in good time when the waste-holding tank needs emptying.
** Except for the Porta Potti 145 and Porta Potti 165
Enquiry Form
Home | Company Profile | Our Products | Inquiry Now | Contact Us | Site Map
Copyright 2011 - 2012. All Rights Reserved by Nidhi Corporation
Site Design By WebKeyIndia.com "Web Designing Compnay India"
Business Member of TradeKeyIndia.com"B2B Portal India"